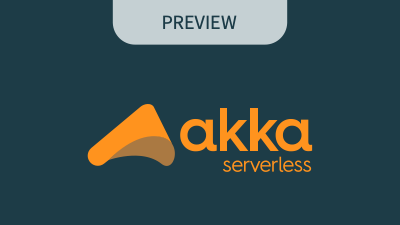 Akka Serverless for JavaScript
Learn how design, develop and deploy stateful services with the Akka Serverless JavaScript SDK.
About This Course
The rise of DevOps and cloud computing has enabled developers to take on more responsibility for the operational aspects of their systems, but not without cost. Serverless computing strives to reduce this cost and allow developers to focus on their business. However, most serverless platforms are missing a critical component: state.
This course will teach you how to use Akka Serverless, a revolutionary new platform that manages state in a highly scalable and resilient fashion. You will learn the benefits of working on a platform where state isn't an afterthought, but is engineered in from the beginning.
In this course you will learn how to design, develop and test stateful services using the Akka Serverless JavaScript SDK. You will then deploy to Lightbend's managed serverless platform as a service. With Akka Serverless, you worry about the business logic, and the platform handles the rest.
This is a course preview
Unlike other courses, it includes slides and exercise instructions only. There are no videos at this time.
We kindly ask that you provide feedback in the survey at the end of the course. You may also provide feedback at any point via the Lightbend Academy Contact Us page.
Course Syllabus
Introduction
Why Akka Serverless
Akka Serverless Anatomy
Schema First API Design
Entities
Clients
Schemas (Revisited)
Event Sourcing
HTTP over gRPC
Wrap Up
General Information
This course is a preview.
It is self-paced.
It can be taken at any time.
The materials can be reviewed as many times as you want.
Course Length
Approximately 10-12 hours.
Requirements
As a preview, we kindly ask that you provide feedback in the survey at the end of the course.
Familiarity and experience with JavaScript and Node.js is recommended.
You will need to install various tools for developing Node.js applications, such as Node Package Manager (NPM).
You will need to create an Akka Serverless account.
You will need to create a Docker Hub account.