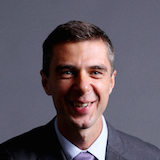 Petro Verkhogliad
Petro Verkhogliad is a Director in Professional Services at Lightbend.
Petro was excited to start teaching as an undergraduate at Carleton University. He continued to teach while obtaining his Masters degree in Computer Science from Carleton University.
After graduate school, Petro worked as a developer, team lead, manager and currently, director while continuing to teach and engage with various technical communities through meetups and conferences.
Today, Petro manages and accelerates the delivery of value to Lightbend Platform customers enabling them to reach their goals.