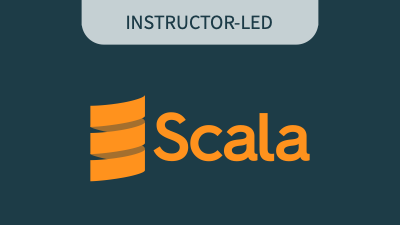 Lightbend Scala Language - Expert

Enrollment in this course is by invitation only
Unleash the power of Scala's type system.
On-site and Remote Options Available
This is a three day course with a live instructor offered to private groups of 5-12 people. At this time, we do not offer the course to individuals. Please contact us to arrange a your group booking. Please ensure you include the name of the course you are inquiring about.
About This Course
The power of Scala's type system, unleashed - advanced object functional programming, implicits, and more. Leverage rich language features to create well-designed libraries or DSL's, utilizing proven best practices.
Participants
Developers who have experience and proficiency in Scala including topics covered in "Lightbend Scala Language - Professional"
Developers who want to understand advanced features in Scala
Managers who want to gain a deep understanding of functional programming
Benefits
Developers gain knowledge and skills to confidently program in Scala at a high level
Certified Lightbend Trainers share deep insights that drive business results
Advance to the limits of Scala capability!
Logistics
Level: Advanced - knowledge of and practical experience with Scala is assumed as taught in Lightbend Scala Language - Professional
Length: Three days - 21 hours of classroom time, plus breaks
Approach: Hands-on mastery - students code through workshop case study and explore how to solve the toughest Scala challenges in their own work
Requirements: Students bring their own laptops with Java 8
Course Syllabus
Recap of important basics
Object-Functional Programming in Depth

Recursion and tail-recursion
Partial functions and partial function literals
Curried methods, partially applied functions
Lifting methods into functions
Folding

Mastering the Type System

Scala type hierarchy
Value classes
Type parameters
Variance
Package objects
Lower and upper bounds
(Abstract) Type members
Singleton Types
Type refinements
Static duck-typing
Path-dependent types
Self Types

Explicitly Implicit

Implicit conversions
Implicit resolution, scopes and precedence
Library extension via implicit (value) classes
Implicit parameters
Implicit Values
Type classes
Implicit parameter chaining
Type class examples in the Scala core library
Type constructors
Context bounds
Type witnesses
Type tags

Domain Specific Languages (DSLs)

DSL Building blocks:

By-name parameters
Currying
Higher-order functions
Dot-free operator notation
Implicit conversions

Phantom types
Finite State Machines (FSM)

Scala Futures and Promises

Execution contexts and Thread Pools
Creating & working with Futures
Futures & Failures - callbacks & recovery
Futures, concurrency & parallelism
Future.sequence/Future.traverse
Creating an already completed Future
Dealing with Future[Option[_]] and for comprehensions
Futures - Do's and Don'ts
Promises

Custom Scala Collections

Uniform return type principle
Collection Builders
Like traits
Type classes for the tricky cases