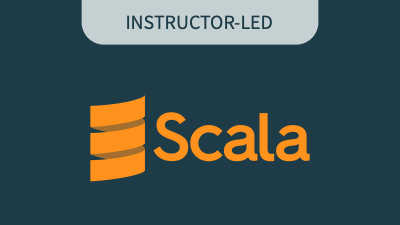 Lightbend Scala Language - Professional

Enrollment in this course is by invitation only
Object-oriented meets functional programming. Take your first steps in Scala!
On-site and Remote Options Available
This is a two day course with a live instructor offered to private groups of 5-12 people. At this time, we do not offer the course to individuals. Please contact us to arrange a your group booking. Please ensure you include the name of the course you are inquiring about.
About This Course
Object-oriented meets functional—elegant class hierarchies, seamless Java interoperability, maximum code reuse and extensibility, built to solve difficult concurrency challenges. Take your first steps in Scala!
Participants
Developers who have experience and proficiency in object-oriented programming including Java, C++, C#, Ruby etc.
Scala programmers with minimal experience looking for a refresher
Managers who want to gain an understanding of functional programming
Benefits
Developers gain knowledge and skills to confidently program in Scala
Certified Lightbend Trainers share coding insights that lead to high-quality code
Re-discover a passion for software - Scala is fun!
Logistics
Level: Introductory - no previous knowledge of Scala is assumed
Length: Two days - 14 hours of classroom time, plus breaks
Approach: Beyond education - students code through a training case study and discover how to effectively apply Scala in their work environment
Requirements: Students must bring their own laptops with Java 8
Outline
Intro
First Steps in Scala
OO Basics
Ex - Define a Class
Ex - Define Class Parameters
Ex - Promote Class Parameters I
Ex - Promote Class Parameters II
Ex - Define a Field
Ex - Define a Method
Ex - Define a Operator
Ex - Use Default Arguments
Ex - Use Packages
Ex - Check Preconditions
Ex - Define Case Classes
Testing
Collections and Functional Programming Basics
Ex - Use a Sequence
Ex - Use map
Ex - Use flatMap
Ex - Use filter
For Loops and For Expressions
Inheritance and Traits
Ex - Override toString
Ex - Define an ADT
Ex - Use a Trait
Pattern Matching
Ex - Use Match Expressions
Use Patterns: Group Exercise
Dealing with Optional Values
Handling Failure
Related Trainings
Lightbend Reactive Architecture - Professional
Lightbend Scala Language - Expert
Lightbend Play for Scala - Professional
Lightbend Akka for Scala - Professional
Lightbend Akka for Scala - Expert